10-18-2019 15:00
Redskins Hosting Rain, Undefeated 49ers Sunday
by Will Strome | 10-18-2019 15:00
Fall weather is in full force and it appears the greater Chesapeake region will get the full-on soggy experience. After struggling mightily for much of the season, the Washington Redskins offense will need all the help they can get against a stout San Francisco 49ers defense on Sunday. Too bad Mother Nature won't be doing them any favors.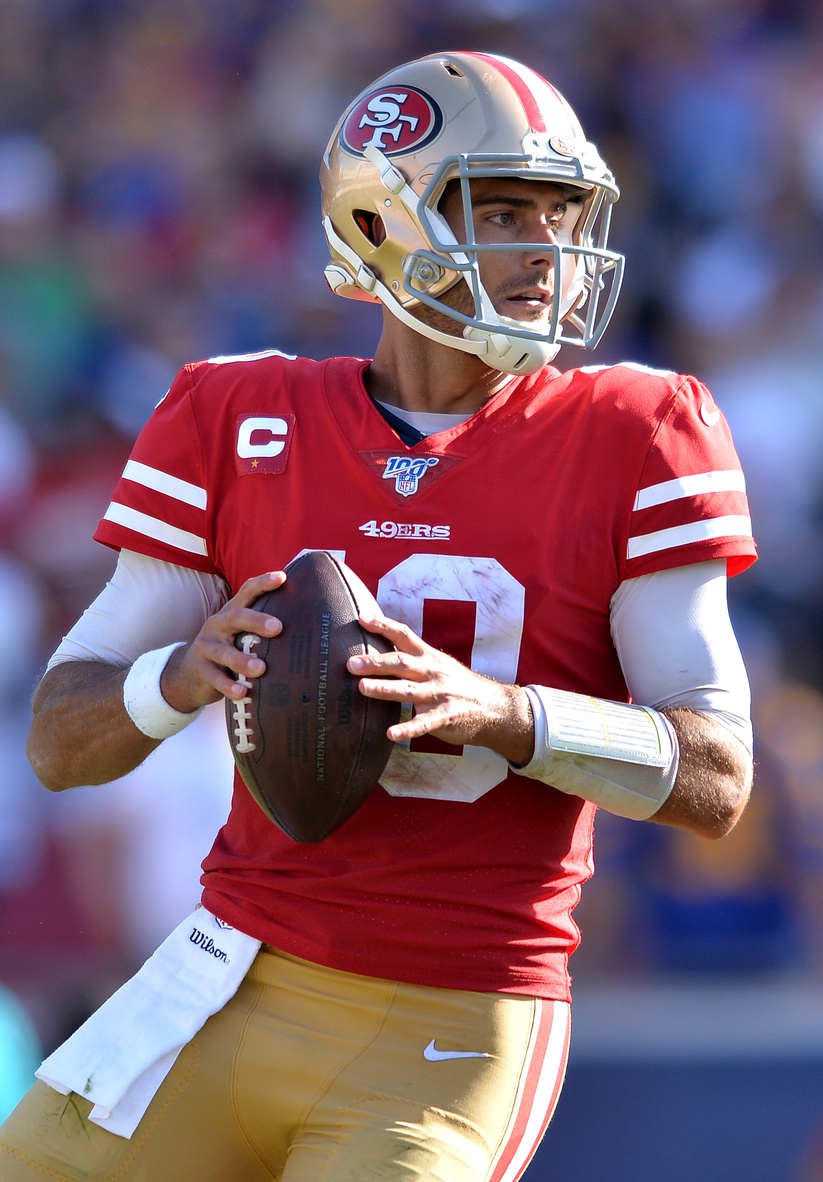 Jimmy Garoppolo. Photo courtesy of USA Today.
According to NFLWeather.com, rain is expected in the District of Columbia all day Sunday, but the precipitation percentage does slowly decrease over the course of the day. However, the grass surface inside FedEx Field has seen some serious mud matchups over the years and this game is looking like it will follow suit.
Neither side has been historically impressive in precipitation but both teams do have plenty of recent rain game experience. The San Francisco 49ers are 3-5 in the rain since 2011 and 1-3 on the road. The Niners (5-0) are a team that's built for bad weather. The defense has been one of the toughest in the league and as the offensive returns to full health, SF very well could finish the season at the summit of the NFC West.
Quarterback Jimmy Garappolo has carried himself well and having spent the majority of his career in New England he's no stranger to bad weather. Even though Jimmy G is the star of the show, it'll be a slew of running backs that carry San Francisco to 6-0 this week. Whether it's Matt Breida, Raheem Mostert or Devin Coleman, all three will have plenty of opportunities to get a handful of touches.
According to the NFLWeather.com Historical Analytics, the Redskins are 3-7 since 2009 and 1-3 at home. With Jay Gruden out as head coach and a sad QB debate between Case Keenum, Colt McCoy or Dwayne Haskins; it's safe to say Washington is in trouble. However, poor weather always favors the underdog and despite playing on their home turf, there's no question the 'Skins (1-6) are 'dogs here. Maybe the coaching change will do some good for Washington but if not, it's back to joining the 'Phins in the "Tank for Tua" bowl.