11-01-2018 10:00
Seattle Hosting Rivers and Rain Sunday
by Will Strome | 11-01-2018 10:00
Two potential playoff bound teams, the Chargers and the Seahawks, are basically in identical situations midway through the season. They both seem to be flying under the radar despite fantastic records, they both trail seemingly unbeatable teams in their divisions and on Sunday, they'll both be completely soaked.
According to NFLWeather.com, a light rain will begin in the morning with a constant drizzle continuing throughout the day. Come kickoff, temperatures will hover in the mid-50's with wind only topping off around 8-10 mph. With wind not much of an issue, if the worst of the weather if merely a drizzle, hopefully that won't have any negative impact on the game. However, if the drizzle turns to downpour then this massive non conference matchup will see two top teams look sloppy.
The Los Angeles Chargers (5-2), used to playing in sunny Southern California, will no doubt be out of their comfort zone this weekend. Since 2012, the Chargers have only played in three rain games and lost each of them. All three losses were within a single score but the offense could only muster a total of 22 points. Not 22 points per game, 22 points over three games.
If LA has any intention of beating Seattle on the road with terrible weather in the forecast, the team can't rely on the stout play of the defense while the offense is loaded with talent. Veteran quarterback Phillip Rivers hasn't had much success in the rain but here's a golden opportunity to do so while trying to keep pace with Kansas City at the top of the division. Rivers has been careful with the ball this season, limiting his turnovers which he'll need to continue in the damp Pacific Northwest.
But limiting turnovers alone won't bring the Chargers back to LA with a win, they'll need someone to step up and help their veteran QB. Rain definitely won't help the passing game but a lot will be expected of wideouts Keenan Allen and Tyrell Williams. Allen is long overdue for a big game, having not found the end zone since week one, while Williams has been getting better and better. As the rain worsens tho, Rivers will likely target his third down back Austin Ekeler who's been a force in the short passing attack.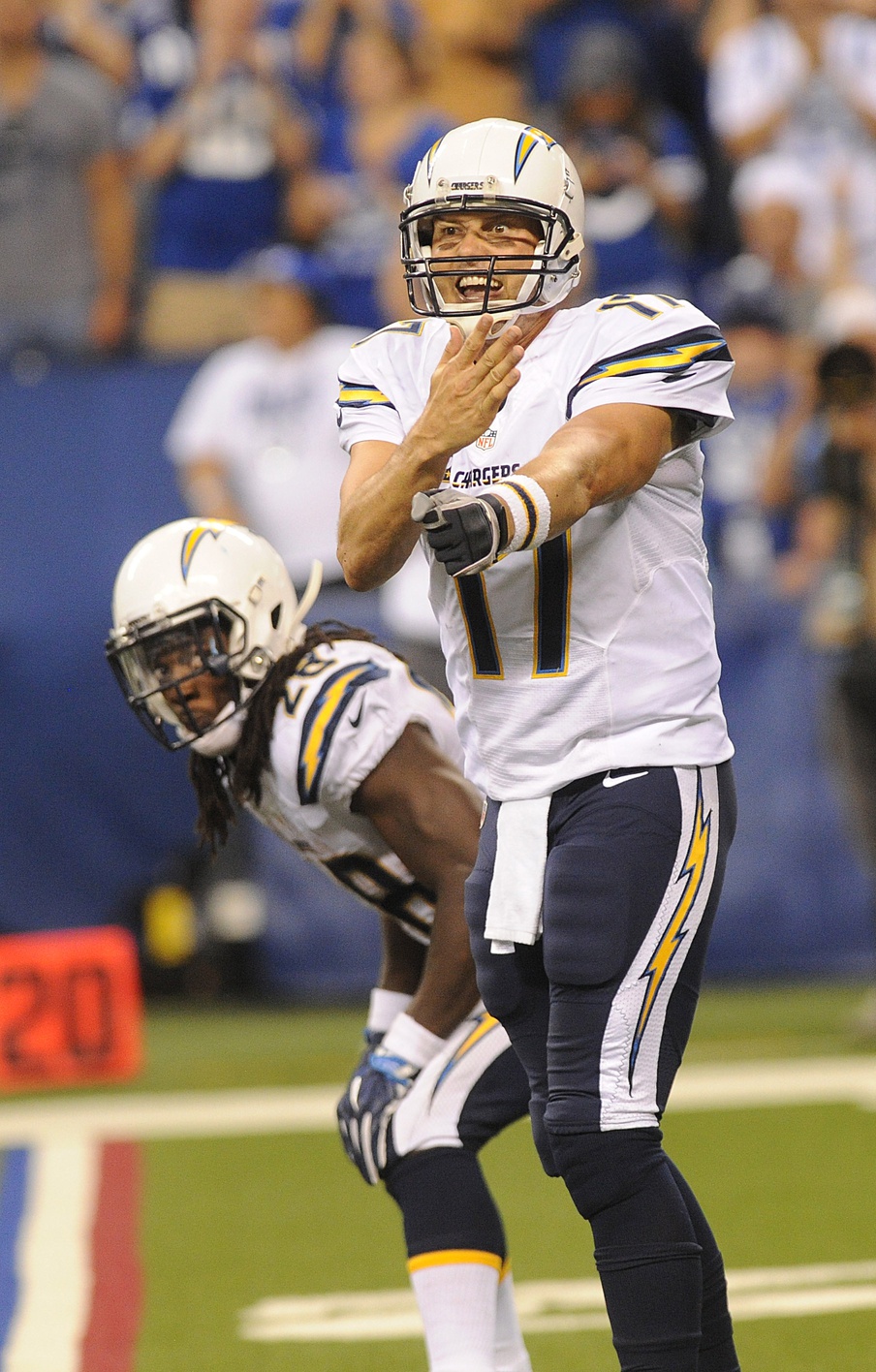 Phillip Rivers. Photo courtesy of USA Today.
While Ekeler has been a delight in Rivers' aerial assault, he's been nonexistent in the ground game. There's a chance he'll get the start again but all signs are pointing to Melvin Gordon returning from his hamstring injury. With a healthy Gordon and heavy rainfall, the Chargers will without question favor keeping the ball on the ground with their sensational young RB.
The Seattle Seahawks (4-3) too have had to deal with injuries to running backs but it looks like the team finally has a strong lead runner. Chris Carson has been on a tear his last four games and he'll get a heavy workload on Sunday given how mediocre the 'Hawks passing game has been.
p>Even with the state of the passing game, Seattle shouldn't be worried. According to the
NFLWeather.com Historical Analytics
, the Seahawks are 8-3 in the rain at home since 2010 and have scored 24 or more points in eight of them. Clearly a little rain doesn't slow this train down.
Aside from Seattle's stellar defensive units over the years, much of the rain game success credit should go to their versatile gunslinger. Russell Wilson is the perfect player under center when the elements are working against the offense. However, over the last couple seasons Wilson's rushing attempts have slowly dimmed down. Only once this season has Wilson rushed for six times or more in a game, but the 'Hawks might feature more rushing plays for their QB as the weather worsens this week.
Another reason why we might see Wilson scramble more than usual this week is the lack of help he's getting from his offensive weapons. Doug Baldwin has been a dud, Tyler Lockett still isn't emerging as a legitimate #2 and David Moore is slowly becoming more and more involved. All three players are below $5,500 in daily fantasy but not even worth a look.
Nobody is talking about both of these teams but nobody in the league wants to play either of them. In the words of Rodney Dangerfield, "I never get any respect!" Well, with a statement win this weekend in crummy conditions, maybe one of two will finally start getting some love around the league.