10-19-2018 20:00
Heavy Breeze Awaits Brees, Saints In Baltimore
by Will Strome | 10-19-2018 20:00
In the friendly confines of the Superdome, the New Orleans Saints high octane offense is absolutely electric and routinely puts up substantial points with ease and grace. One reason for that, aside from the obvious home field advantage, is the team never has to worry about battling the outdoor elements.
Well, come Sunday in Baltimore the team that plays it's home games indoors is going to have to endure swirling 15-18 mph winds on a chilly night. Oh, and they'll have to handle a Ravens' defense that forced 11 sacks inTennessee last week.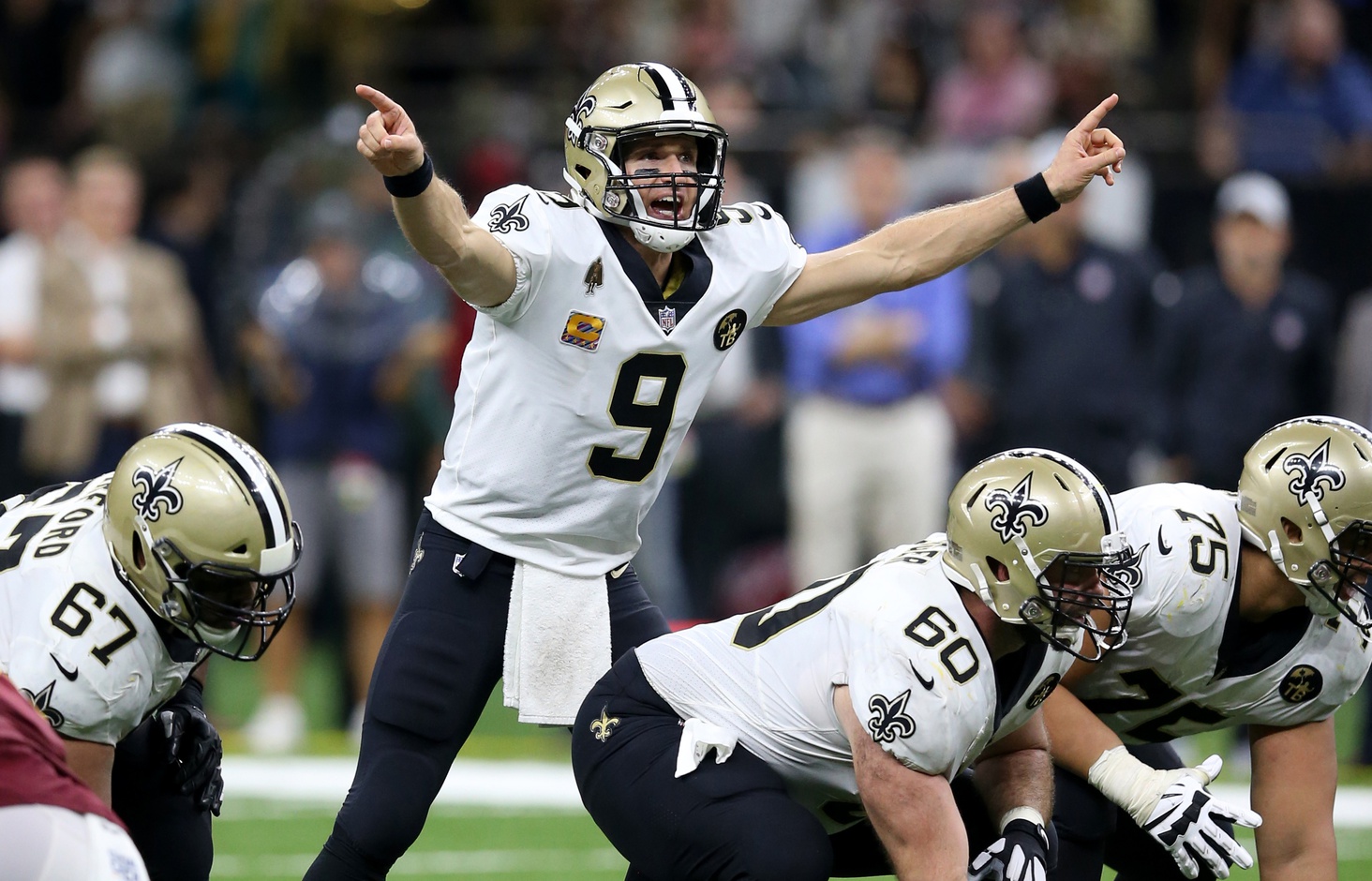 Drew Brees. Photo courtesy of USA Today.
According to NFLWeather.com, partly cloudy skies and an endless breeze will be in the Sunday forecast with temperatures dipping into the high-40's. A late 4:05pm kickoff in M&T Bank Stadium will leave for a frigid second half, but thankfully for fans and players alike there's a minimal chance of precipitation as of Thursday.
New Orleans (4-1) hasn't played in a poor weather game in quite some time so it might take a quarter or two for this offense to get rolling, if it indeed can.
According to the NFLWeather.com Historical Analytics, it's been over three years since the last time the Saints played a rain or snow game and only six times since 2013 has New Orleans played an outdoor game when temperatures dipped into the 40's or lower.
Quarterback Drew Brees, who loves the deep ball, might be a bit more limited in his passing attack as the wind picks up. Brees, a trusted veteran, is notorious for making smart decisions and avoiding forcing the ball into areas that result in turnovers but a breeze could easily create unexpected issues where there typically isn't (the same goes for the kicking game).
If Mother Nature forces Brees to abandon the long ball, luckily he has no shortage of offensive weapons. Wideout Michael Thomas has become an elite WR in the NFL with veterans Ted Ginn Jr. and Cameron Meredith alongside him, however, Ginn Jr. and Meredith have a questionable tag leaving Tre'Quan Smith as the potential #2 target this week. If both veterans can't suit up, Smith will look to add to his 111-yard receiving performance from a week five against Washington and a $3,700 price tag in daily fantasy makes him a sneaky potential sneaky sleeper play worth monitoring.
While the passing game gets most of the attention for the league's second-best offense, it's been the Saints' ground game that's been extremely impressive and will be relied upon heavily given the expected crummy conditions for Sunday's non-conference bout. Alvin Kamara is a force in both the passing and rushing attack but now that Mark Ingram has returned from suspension, Kamara's touches might decrease a bit but the two-headed monster will be even more effective as a whole. In other words, the rich just got richer.
Like the Saints, the Baltimore Ravens (4-2) have more than one option in the backfield and both will be leaned on heavily to try to eliminate the wind-factor. Alex Collins has been the lead back who's seen double digit carries each of the last four weeks while Javorious Allen has been more involved in the passing game and even redone appearances. Even though Allen's on the field for less than 40% of offensive plays last week, the worse the weather gets will only increase his usage.
While Baltimore will want to control possession by dominating the ground game, Joe Flacco will desperately need to do something he hasn't done since Week Four if the Ravens want a second straight win and that's avoid throwing an interception. Flacco has yet to drop back less than 34 times a game so even with wind a factor, it's impossible for the Ravens to completely avoid the passing game. Flacco will still attempt well over 20-25 passes with John Brown, Michael Crabtree and former Saint Willie Snead IV as his veteran go-to's.
This matchup is a classic great offense pitted against a great defense with Brees and Terrell Suggs as the proven leaders. But if the wind gets out of hand, it could be the kickers, not the future Hall of Famers, who might steal the show. Let's not forget, Saints' Will Lutz is used to living life indoors while Justin Tucker has never missed a PAT in his career. On a nicer day, this could be a shootout but a strong breeze could turn this battle into a low-scoring chess match.