10-04-2018 16:00
Storms, Jags Both KC Bound For Thunderous Bout Against Unbeaten Chiefs
by Will Strome | 10-04-2018 16:00
Whether it's been against a good defense, in a difficult away atmosphere, or down two scores late in the fourth quarter, this season the Kansas City Chiefs have already proven they can overcome anything.
Well, just about anything, because the Sunday environment in KC could feature something the undefeated host team has yet to encounter. This week when the Jacksonville Jaguars come to town, we'll see if the Chiefs can overcome a new feat; battling both Mother Nature and a strong AFC side.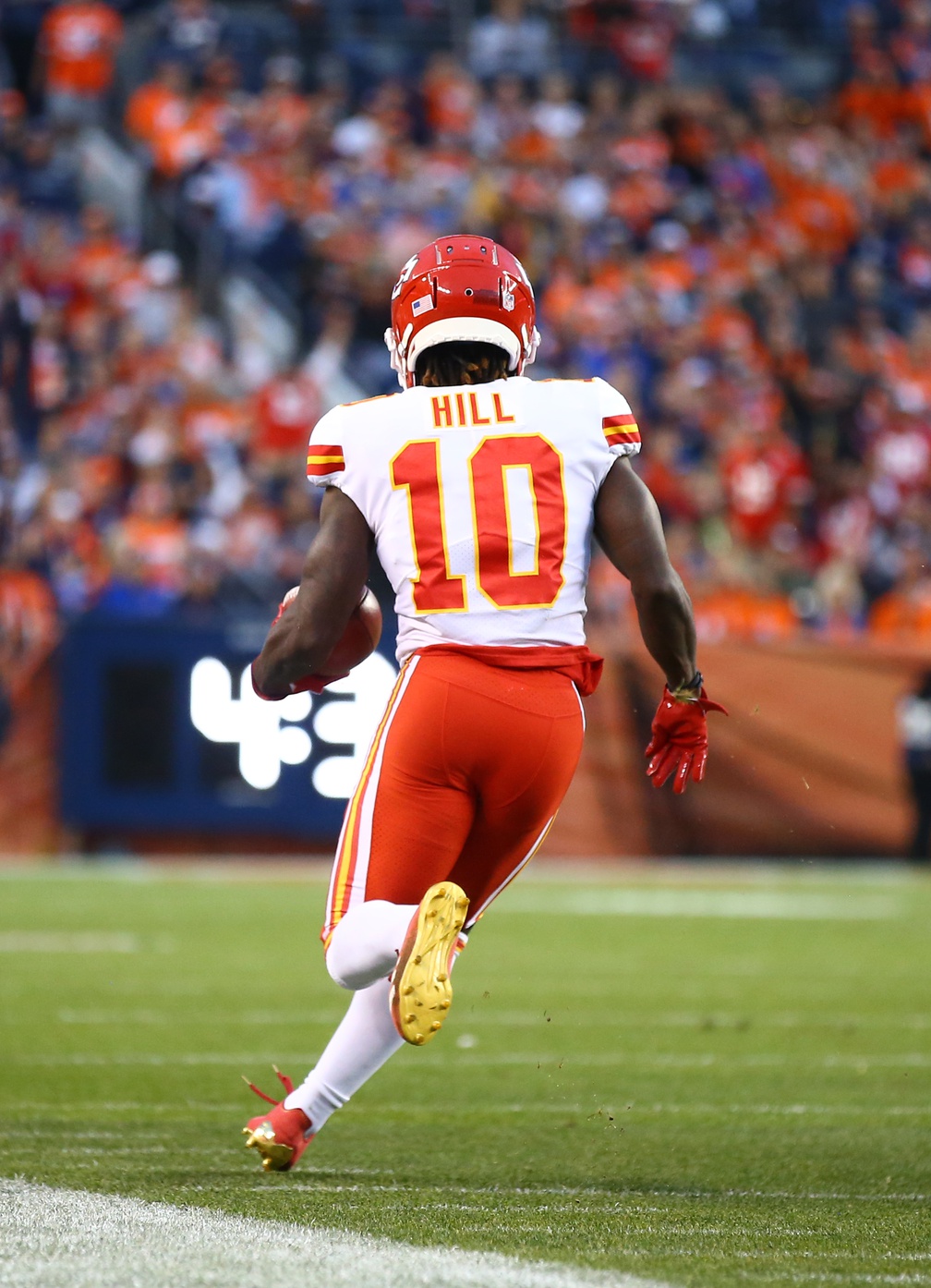 Tyreek Hill. Photo courtesy of USA Today.
According to NFLWeather.com, a light rain is expected for the 1pm Sunday kickoff but precipitation will be apparent all day from morning through the evening. Kansas City is anticipating on rain arriving Saturday or possibly late Friday night but thunderstorms are in the Saturday and Sunday forecasts. Temperatures will be in the mid-to-high 60's and wind will hover around 10mph, making a slick pigskin and grass surface inside Arrowhead Stadium the midweek concern for both sides.
Kansas City (4-0) has played in over a dozen rain games since 2010 but the team's young quarterback has yet to participate in a single one. Sophomore QB Patrick Mahomes seems to look better and better each week and we'll see if the backyard football-style gunslinger can shine through the upcoming weekend storm.
Lucky for him, his team has been almost perfect when the weather is anything but. According to the NFLWeather.com Historical Analytics, the Chiefs are 9-4 in rain games since 2010 (8-2 since '13) and 4-0 at home during that span. Clearly the elements don't slow down the offense too much, given the team has scored almost 80 points over its last three rain games.
Much of that rain game success can be attributed to the team's ability to avoid turning the ball over and control possession by dominating the ground game. This dominance in rushing began years ago with Jamaal Charles but Kareem Hunt is now the top dog in the KC backfield. Hunt, who torched Denver last week for 121 yards on 19 carries and a touchdown, is listed at only $5,800 on DK this weekend (cheaper than Chris Thompson) which is the lowest his price tag has been all season.
Two regularly expensive players in daily fantasy on the Chiefs offense can be found in the passing game, tight end Travis Kelce and speedy star wideout Tyreek Hill. However, Hill's price plummeted from $8,200 to $6,900 this week and if Sammy Watkins is a no-go following last week's injury, like Hunt, Tyreek the Freak are at a price worth considering. Pick with caution though, the reason for the cheap listing is a combination of the potential thunderstorms and the Jags stingy D.
Jacksonville, like KC, has been a tough team to beat in the rain recently and post a 5-2 record since 2010.
Unfortunately for the Jags this week, they'll be without their most coveted rain game weapon, Leonard Fournette. Now that Fournette has been ruled out, T.J. Yeldon will be left with full-time running back duties while Corey Grant will see the occasional snap. With the rushing attack down it's best best man, it's up to the JAX passing game to put together a second straight perfect performance if the team wants any chance of pulling off this damp away game upset.
Quarterback Blake Bortles is a surprising 3-0 in rain games and could surprise a few doubters this weekend. In his three rain games, Bortles has a 2:1 touchdown-to-interception ratio and a 63% completion percentage. He'll need his trio of WR's to cause issues in the KC secondary but guessing who the weekly top target will be is turning into quite the mystery. Keelan Cole emerged as an early favorite for Bortles but both Dede Westbrook and Donte Moncrief had a pair of 100-yard receiving performances last week while Cole only saw three targets.
Despite Bortles' rain game success, it's truly been the Jaguars defense that should get all the credit. Especially given the unit gets better when the weather worsens. Over the last three rain games, the team has only surrendered an average of 11 points per game.
The red hot Kansas City offense hasn't been weathered by much this season but a stout Jacksonville defense and crummtions come game time could be the storm that finally brings rain to the Chiefs' 2018 unbeaten parade. A parade that lasted much longer than anyone expected.