09-28-2018 18:00
Jets Visit Jags Just In Time For Scattered Storms
by Will Strome | 09-28-2018 18:00
The two most difficult forecasts in Florida to anticipate around this time of year are incoming tropical storms and the weekly performances of Blake Bortles. Tropical Storm Kirk is lurking far off the East Coast, midweek, but weekend weather will potentially be disrupted as the storm moves northwest, directly towards Jacksonville where the Jaguars host the New York Jets Sunday at 1p.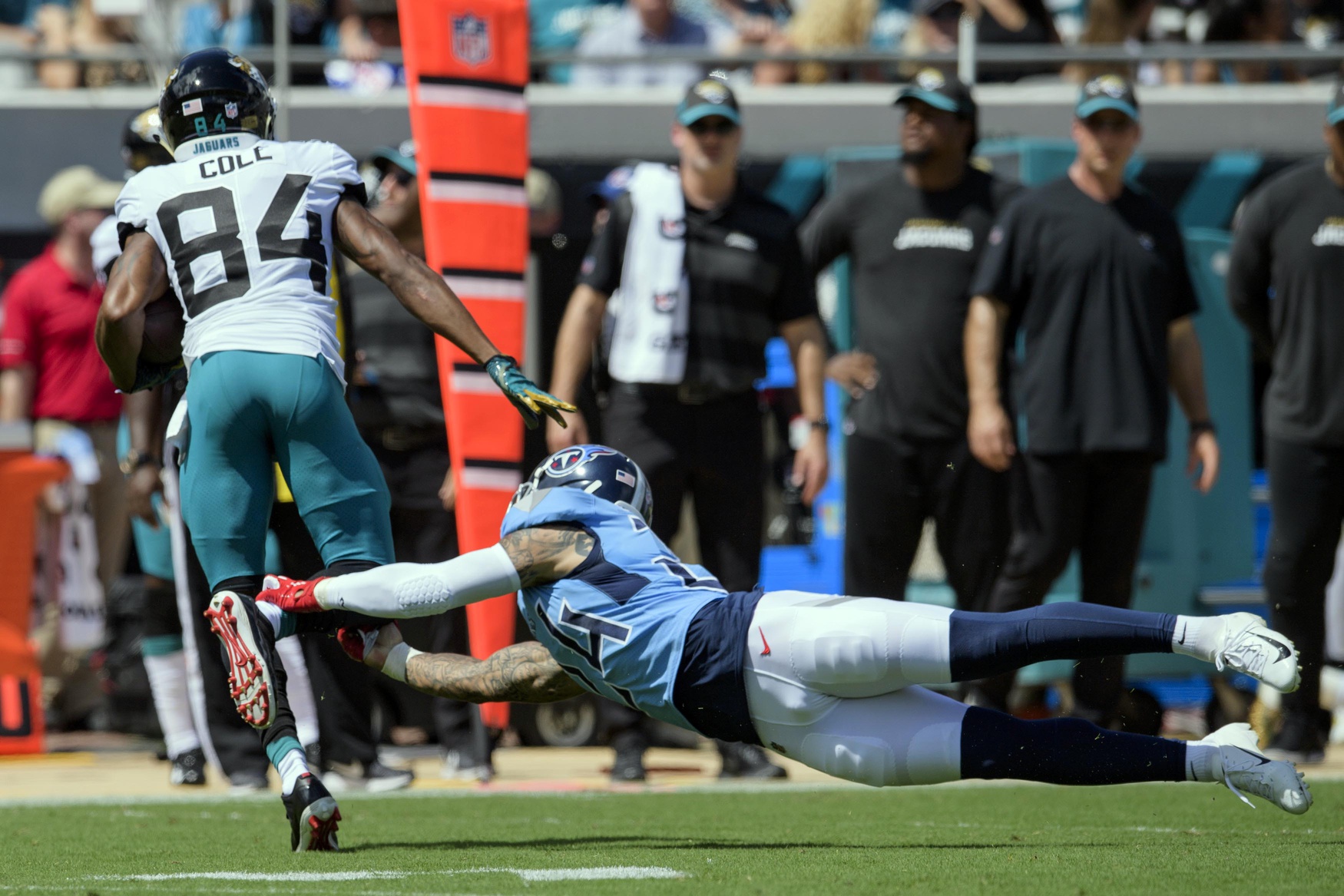 Keelan Cole. Photo courtesy of USA Today.
According to NFLWeather.com, a drizzle is expected early in the day with the percentage chance of precipitation increasing as the game goes on. Jacksonville is likely going to begin experiencing scattered thunderstorms as early as Friday and extending through Tuesday. Game time temperatures will be in the mid-to-low 80's with humidity around 70-72%. Wind shouldn't be much of an issue, maxing out around 10mph, but a slick surface and football will be an interesting obstacle for both sides.
Jacksonville (2-1) is well aware rain is on the horizon this weekend, but the team has zero idea which Blake Bortles will show up. Will it be the quarterback who torched the Patriots for 376 yards and four scores with no Leonard Fournette or the QB who was a no-show against a mediocre Tennessee team?
If history tells us anything, expect Bortles to make it rain in the rain. In his two career rain games (both wins), Bortles completed 35-of-63 attempts for 330 yards, two touchdowns and only one turnover. If Fournette is once again a no-go this week, the Jags will lean heavy on the young gunslinger who still seems to be searching for a number one wideout to emerge this season.
Young receiver Keelan Cole has seen 17 targets over the last two weeks and appears to be Bortles' early favorite, but WR's Dede Westbrook and veteran Donte Moncrief have also been involved in the passing game. Another veteran waiting for a breakout game, tight end and former New York Jet Austin Seferian-Jenkins, has a juicy matchup for revenge given the visiting teams' inability to stop the TE and the crummy conditions.
Poor playing conditions haven't seemed to be a recent problem for the Jags. According to the NFLWeather.com Historical Analytics, since 2010 the team is 4-2 in the rain and 2-0 at home. Despite the team's and the QB's recent rain game triumphs; if they can't establish somewhat of a ground game without Fournette, this could surpringly be a close one. Backup T.J. Yeldon didn't practice on Wednesday but at least Fournette suited up, along with third stringer Corey Grant who could see an uptick in touches this week.
Like the Jags, the New York Jets (1-2) don't exactly have a concrete starting running back headed into this week four matchup either. It's been a split backfield between veterans Isaiah Crowell and Bilal Powell, with neither being an exciting start this weekend despite the bad weather. The Crow has slowly emerged as the lead back and has found the end zone four times already, but big RB fantasy points against the JAX D is hard to come by.
Another player who is an absolute must-sit this weekend is rookie QB Sam Darnold. Aside from this being Darnold's first career rain game, we're still waiting on the rookie to create some chemistry with at least one of his wideouts. Veterans Robby Anderson and Jermaine Kearse have been invisible, but an interesting top target for Darnold has been Quincy Enunwa. Enunwa has averaged almost 10 targets per game and could be a sneaky cheap play in daily fantasy given his $4,300 price tag.
Since 2009, the Jets are 3-5 in rain games and haven't had a rain game road win since 2012. The Jets have a rookie QB under center going up against one of the league's most tenacious defensive units. The Jets are staring at a brutal forecast coming up and Mother Nature isn't going to be giving them any favors. This could get ugly and sloppy in more ways than one.