12-14-2018 20:00
Struggling Steelers Must Beat Brady, Patriots In Frigid Rain To Save Season
by Will Strome | 12-14-2018 20:00
Christmas is still more than a week away yet it already feels like the Grinch has paid a visit to the Pittsburgh Steelers.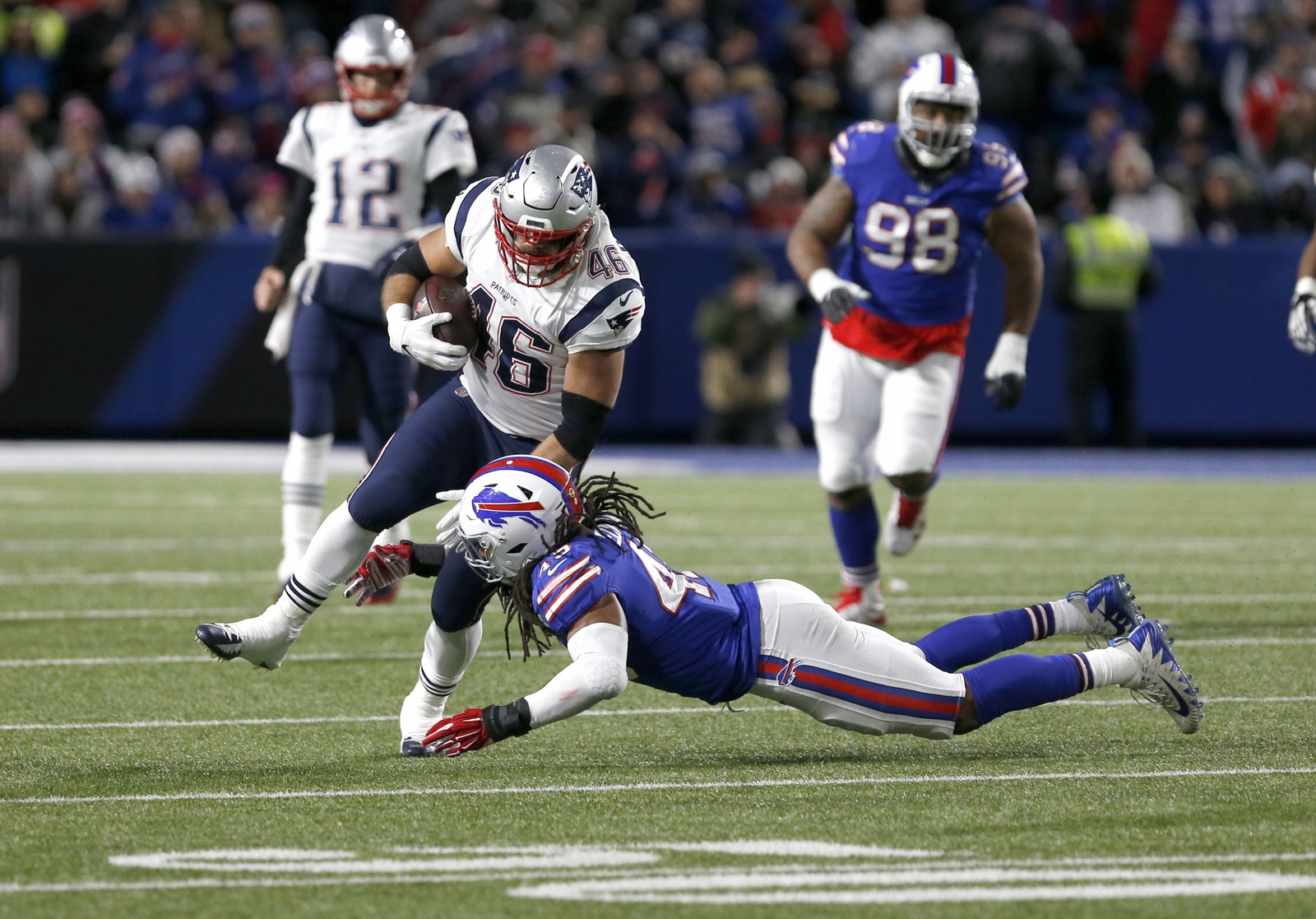 James Develin. Photo courtesy of USA Today.
Once 7-2-1 and soaring towards to potential first-round bye, the Steelers are now avalanching towards missing out on the playoffs as the team braces for a massive and rainy Sunday showdown against the New England Patriots. The Steelers need all the help they can get against a Pats team that Pittsburgh seemingly can't beat, but Mother Nature won't be doing either side any favors.
Right now the Steelers look about as fragile and delicate as new fallen snow and if temperatures continue to drop, actual snow flurries could make an appearance. If the elements weren't enough to battle, having Tom Brady in town only increases the likelihood that an offensive blizzard could roll through Pittsburgh and sweep away a playoff spot that looked so secure only a few weeks ago.
According to NFLWeather.com, rain is expected early in the day with overcast skies blanketing the 'Burgh all afternoon The weekend forecast calls for rain Friday, Saturday and Sunday but as of Thursday, the low over that three-day span is 32 on Sunday so given the late 4:25pm kickoff, there's a small chance snow could descend but rain is much more likely (will be in the low 40's at kickoff). Wind is usually a factor at Heinz Field but the breeze looks to be minimal, maxing out around 5-6 mph.
The real issue will be the grass playing surface which could have a huge impact on the kicking game. Just ask Steelers kicker Chris Boswell who missed two field goals last week in the loss at Oakland with the last try at the end of regulation missing horrendously after his cleats slipped in the turf. That was with in ideal playing conditions so it can only get worse with rain expected.
Like the Steelers the New England Patriots (9-4) had a tough and unexpected loss last week. New England lost on a last-gasp rugby-esc lateral play from Miami which kept the Dolphins playoff hopes alive. The win would have secured the division but now all the Pats needs to do is beat Pittsburgh and see Miami lose/tie this week and the division title is theirs. If New England wins and Tennessee loses/ties, it locks up a playoff spot for Bill Belichick's men.
But a playoff spot isn't secured unless the Patriots take care of business in the rain against Pittsburgh Week 15.
Thankfully for the New England faithful, even when crummy conditions are a factor like they will be Sunday, the Steelers can't beat Tom Brady. Pats fans can rest easy, Tom Terrific is 11-2 all-time against Pittsburgh and has beaten the Steelers in five consecutive outings.
Despite Brady's statistical dominance over the Steel City, it's been a team effort. According to the NFLWeather.com Historical Analytics, the Patriots have won an astonishing 10 straight rain games dating back to 2012 and since 2009, New England is 13-2 in the rain and has beaten the Steelers three soggy times over that impressive span.
In each of those three rain game wins over Pittsburgh (2017, 2015, 2010), not once did New England have a running back top 100-yards. Collectively, however, the NE RB corps has done plenty of damage against the Steelers Last year, Dion Lewis and Rex Burkhead each rushed for a touchdown and contributed nicely in the passing game along with James White. This time around in the rain, expect the versatile White to see action in both the passing and ground game with rookie Sony Michel likely to handle the bulk of the carries. Rex Burkhead should see the occasional handoff (possibly more than usual given the poor playing conditions) but if the Patriots need a goal line TD, lately fullback James Develin has been the go-to guy.
Just like in the backfield, the Patriots have an array of weapons at their disposal and Brady will utilize all of them. Trusted target Julian Edelman has returned to his #1 wideout role with Josh Gordon, Cordarrelle Patterson and Chris Hogan all are regular contributors to NE's offensive arsenal. But the ultimate wildcard in the passing attack is tight end Rob Gronkowski. When healthy, he's the best in the business and after hauling in all eight targets last week, it's safe to say he's back and he'll torch Pittsburgh in the frigid rain.
Even though the Pittsburgh Steelers (7-5-1) have been a mess as of late and just can't seem to beat New England, they are one of the toughest teams to beat in the rain. Since 2010, the Steelers are 12-4-1 in the rain and 9-2 at home. The only concern with that 12-4-1 record is that three of those four losses came against New England.
With a rain game against the Patriots and a trip to New Orleans still on the schedule before Christmas, Pittsburgh's playoff hopes are on thin ice, regardless of previous success in bad weather. If the Steelers have any intention of playing in January, the fate of the team rests on the broad shoulders of quarterback Ben Roethlisberger. Big Ben is the ideal QB for a rain game with his large frame making him difficult to bring down and ability to extend plays with his feet. Despite taking a few shots to the ribs last week and missing Wednesday's practice, Ben will be good to go Sunday but desperately needs to improve upon his 7:6 touchdown-to-interception ratio over the last four games or the once promising Steelers season will only be a distant memory.
To take the pressure off Roethlisberger, Pittsburgh needs to establish some sort of ground game which has been nonexistent over the last few weeks. James Connor is still listed as questionable and didn't participate in Wednesday's practice leaving Jaylen Samuels and former-Pat Stevan Ridley as the lead dogs in the Steelers backfield. Without Connor, the Steelers ground game is a stagnant rain puddle and unfortunately for them, they'll also be playing in one on Sunday.
While the rushing attack hasn't been consistent as of late, at least Big Ben's receivers continue to torment opposing secondaries. Nobody is surprised by Antonio Brown's feats but JuJu Smith-Schuster has been the head-turner this season. Despite Pittsburgh not having a true #3 wideout, AB and JuJu have done more than enough to carry this mediocre offense. Another surprise has been the emergence of tight end Vance McDonald who's averaged over five targets a game since week six. The heavy the rain will get, the more McDonald will be Ben's go-to for short yardage.
Both the Steelers and Patriots sit atop their divisions yet this game doesn't have the same feel as the last few matchups. Is it because Pittsburgh is in a funk? Is it because both teams lost in brutal fashion a week ago? Or is it because Pittsburgh just isn't as good as everyone thought they were?
The time is now or never for Pittsburgh and quite possibly Mike Tomlin as well. A loss this week to make it four in a row and there's a good chance the Grinch will swing through Pittsburgh not only to steal a playoff spot, but a few coaches' jobs as well.