11-30-2018 10:00
December Rain Descending On New England For Patriots, Vikings Sunday Showdown
by Will Strome | 11-30-2018 10:00
Winter isn't coming, winter is here.
Weeks have come and gone and both the East Coast and Midwest have seen their fair share of snow days already. But as the monthly calendar turns to December, a much more mild front is about to sweep through. The good news, temperatures will be higher than usual. The bad news, rain will be in the Sunday forecast when the New England Patriots host the Minnesota Vikings in a massive non conference matchup with major playoff implications on the line for both contenders.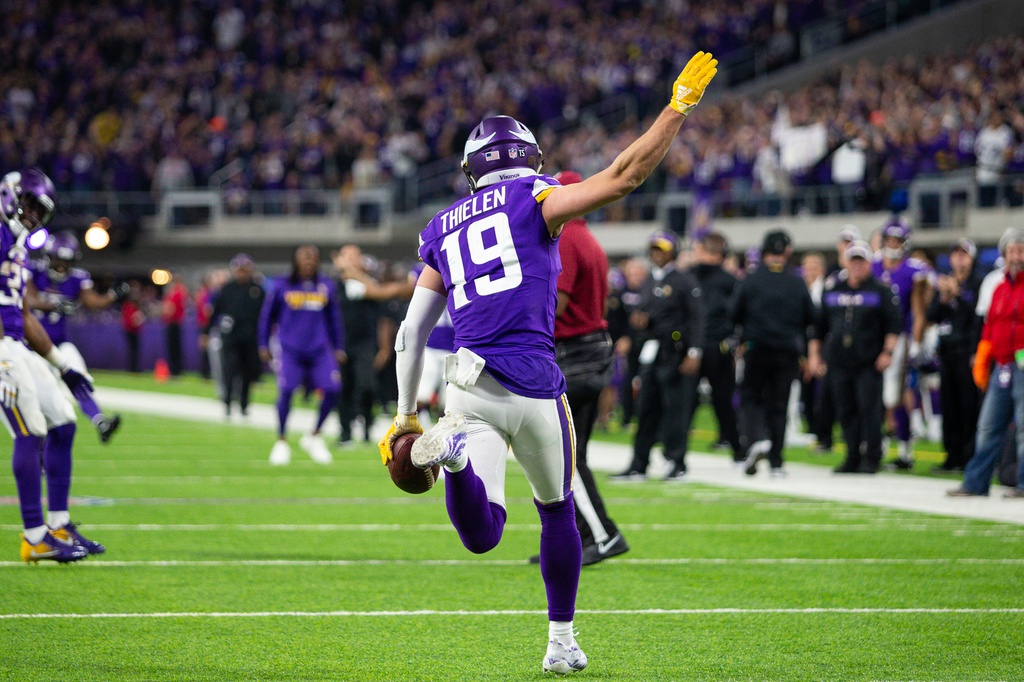 Adam Thielen. Photo courtesy of USA Today.
According to NFLWeather.com, rain is expected all Sunday afternoon but there's a chance that the downpour could reduce to drizzle by the time kickoff rolls around at 4:25pm. While Thanksgiving weekend resembled a winter wonderland in some regions, the Northeast will get a breather for Week 13 with temperatures in the mid-50's and a cool breeze around 5-6 mph. That will be short lived though so enjoy it while it lasts.
It usually doesn't matter whether or not the rain will have an impact on the New England Patriots (8-3). Bad weather in Foxboro typically only has a negative impact on the opposition. The Pats are 12-2 in rain games since 2009 and a flawless 8-0 at home. Minnesota will have a slippery mountain to climb.
Currently listed as the second-seed in the AFC, if New England can win it's next three games then the team will feel much more comfortable about claiming a first round bye. After the Vikings, Bill Belichick's men head to Miami who's still shockingly in the hunt then a huge game in Pittsburgh. Houston is hot on NE's tail but the Texans still have the Colts to shake in their own division.
But before all the stars can align and home field advantage appear, business needs to be tended to on a soggy Gillette Stadium turf against the visiting Vikings.
Rain or shine, there's no question Tom Brady will be ready to roll. Despite putting in a limited practice Wednesday, he'll be be golden come Sunday. Not only does he never let Mother Nature bother his play long, neither did a slow start to the season. Over the last eight games, Tom Terrific is 7-1 with 12 touchdowns and over 250 passing in every game. Simply put, he's back to being the most trusted QB in the league, and what better a time than deep in a playoff push with the outdoor elements only getting worse.
It's never felt like Tom Brady has quite had all his offensive weapons at his disposal this season, whether it was via injury or suspension. But not this week. Trusted wideout Julian Edelman has reemerged as Tom's top target while Josh Gordon has seen double digit targets in two of the last three weeks. And last week, Rob Gronkowski finally put forth a decent performance since his injury and finding the end zone.
While the passing game is back to looking it's best, the same can be same for Brady's backfield. James White has been a stud, Sony Michel is healthy again and even Rex Burkhead has been lifted from IR in time for Sunday's game. White's versatility will be relied upon heavily in the rain this week, as will Michel's shiftiness following his 21 carry, 133 yard performance against the Jets last week that was capped off by a TD.
With all the cylinders in motion offensive for New England right now, the Vikes third-best overall defense in the league is about to be tested and probably in trouble.
The Minnesota Vikings (6-4-1) are currently in the thick of the NFC wildcard race and clinging for dear-life onto the fifth seed. Even though the Minneapolis team are plenty used to living in the cold temps, rain or snow; they don't need to worry about playing in them. When they do though, it doesn't go well.
According to the NFLWeather.com Historical Analytics, the Vikings are 0-3 when precipitation is apparent over the last few years and haven't won a rain game since they beat the Steelers in damp and dreary London back in 2013.
Even though the team hasn't had the most recent success, at least their quarterback has. Veteran Kirk Cousins won his last rain game on the road, last season under center for the Washington Redskins in Seattle. Cousins is notorious for avoiding turnovers but tossing five picks in his last six games just isn't good enough against a swarming Pats' D. The former Michigan State grad is plenty use to playing in bad weather, and given the gunslinger has registered at least one passing TD a game this season, it wouldn't be the biggest surprise if this game turns into a shootout if the downpour can disappear. And listed at only $5,500 this week in daily fantasy, Cousins could be the cheap play to beef up the lineup elsewhere while still producing a top-six or eight performance.
Another reason that Cousins shouldn't be counted out this week to put up big numbers is that the guy has the best WR combo in the league right now. Adam Thielen and Stefan Diggs have become superstars and it's doubtful a little rain will slow their All-Pro runs down. If veteran tight end Kyle Rudolph can be more than just a touchdown here-and-there weapon in the Minnesota offense, the Pats will have their hands full.
As for the ground game, Dalvin Cook is finally healthy but Latavius Murray is still a 10+ touches a game back. With rain in the forecast, Cook will still see plenty of action and start the game but Murray will definitely get his fair share of carries. Murray is also only listed at $3,700 and if Minnesota has a goalie opportunity, the bruising back that is Murray will get the nod. This could be a crazy cheap sleeper if all he does is fall over the goal line once.
New England might seem like a heavy favorite but the Vikings are a tricky team. When they're on, they're one of the league's most electric offenses and dominating defenses. When they're off, they're a sad stagnant puddle on all fronts. If the latter shows up Sunday, this game will be a stroll for the Patriots. Even in the heavy rain.