11-09-2018 08:00
Heated Rivalry Expecting Freezing Rain Sunday When Wentz, Eagles Battle The 'Boys
by Will Strome | 11-09-2018 08:00
The reigning Super Bowl Champion Philadelphia Eagles knew the road to repeat wasn't going to be an easy one but freezing rain in the forecast definitely doesn't help.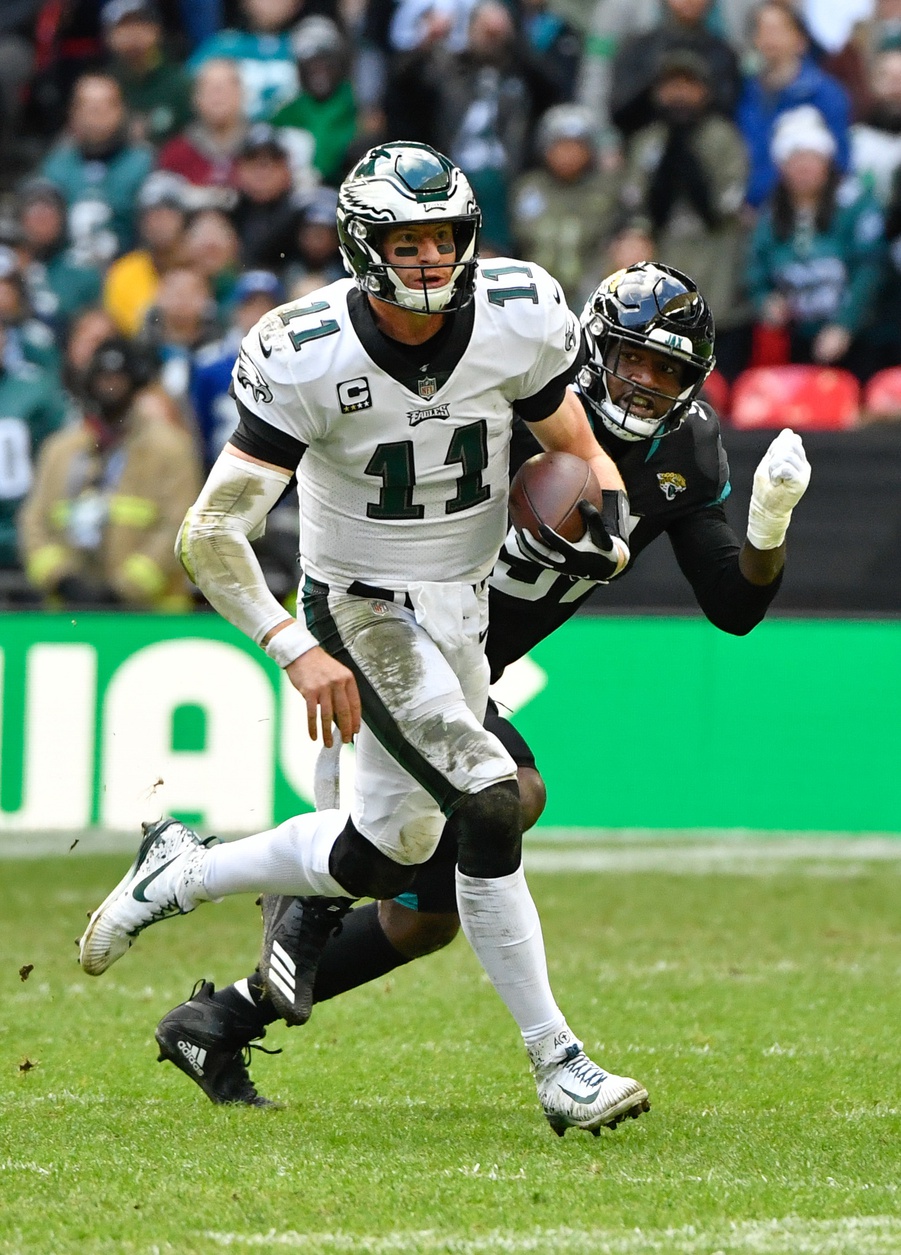 Carson Wentz. Photo courtesy of USA Today.
Not only will Philly need to battle the elements Sunday night, but the Birds will have their most hated rival to conquer as well, the Dallas Cowboys. Even the frozen forecast bound for the City of Brotherly Love has no chance of cooling down the intensity of this must-win matchup.
According to NFLWeather.com, the Sunday forecast still claims partly cloudy skies on Sunday but a Northeastern-bound storm has yet to do it's eventual damage. A cold rain and gusty winds are likely to roll through the Appalachian Mountains on Friday and roll through Pennsylvania and New York. Saturday is expected to still see rain but if the storm lingers longer than expected, Sunday could be a damp and dreary one at Lincoln Financial Field. Temperatures will likely be in the high-30's with wind roughly 4-5 mph but a late 8:20pm kickoff means a frigid fourth quarter is a guarantee.
Lucky for the Philadelphia Eagles (4-4), this will be the fourth game featuring rain the Eagles have played in this season. Quarterback Nick Foles started the opening rain game with a win over Atlanta and Carson Wentz has guided the Eagles to victories in the last two. This team has proven they have both big game experience and rain game experience, meaning Dallas has a tall order to handle on Sunday.
The statistics for this one really favor Philadelphia. According to the NFLWeather.com Historical Analytics, Philly has won it's last four straight rain games at home and hasn't lost at home since 2012. Overall, since that loss at The Link in '12 the team is an impressive 5-1. Whether it would be Foles or Wentz under center this weekend (don't worry, it's definitely Wentz), history says Eagles fans have minimal need to worry.
The real concern for Philly fans would be if Mother Nature negatively impacts the passing game, then who would step up in the backfield?
Veteran scat back Darren Sproles was eyeballing a return this week but the seasoned speedster was a nonparticipant in Thursday's practice leaving Wendell Smallwood as the listed lead running back once again. Corey Clement also missed Thursday's practice so Smallwood could see almost the entire workload in the ground game. Listed at only $3,400, if Clement and Sproles don't dress on Sunday then Smallwood could be a phenomenal cheap play.
While uncertainty surrounds the Philly ground game, there are zero questions when it comes to the passing attack. Unless the rain turns from drizzle to downpour, Wentz will have himself a field day in the freezing rain. Good or bad weather, tight end Zach Ertz is the perfect security blanket but the rich just got a whole lot richer given the teams' recent trade day acquisition. Golden Tate joins Alson Jeffrey, Nelson Agholor and Jordan Matthews as the league's most dynamic wide receiving corps and if the Cowboys had trouble game planning how to handle the original trio of wideouts before the trade; this game could get out of hand quickly.
The Dallas Cowboys (3-5) are bending big time right now but the 'Boys haven't broken just yet. A loss at Philadelphia this weekend though could open the flood gates.
The Cowboys haven't fared well in poor weather recently, posting a 2-2 rain game record since 2012 but did manage an impressive 33-19 rainy road win in Washington last season. Quarterback Dak Prescott didn't put forth his most impressive performance in that win, but he got that win, and that's all he'll need to do this Sunday.
Prescott has definitely had his ups and downs over his short career, but his gritty style should embrace an ugly game featuring curly conditions, like this one. Thankfully he has the perfect weapon for a rain game in his arsenal, his running back Ezekiel Elliot. Even though Elliot has less than 20 touches in each of his last two games, expect Prescott to feed the beast well over 25+ times this game. Zeke will be an absolute freak this week and the Cowboys will force feed their star RB, rain or shine.
Despite the heavy workload Zeke will take on, the passing game can't be and won't be a stagnant puddle Sunday. Newly-acquired Amari Cooper is the new #1 target in town and much like Zeke is relied on in the ground game, expectations are high for Cooper so 12+ targets isn't a crazy thought. Cole Beasley will still see his underneath targets but given the uncertain health of tight end Geoff Swain, Coopers involvement will only increase.
Typically a high scoring contest, Philly against Dallas has always been a fun matchup to sit back and enjoy from the unbiased spectators perspective. But given the playing conditions and direction both NFC East rivals are headed, this could be the moment during the season where we pinpoint when the Cowboys finally fell through the thin ice that was their 2019 season.