12-07-2018 18:00
Se esperan lluvias en Tampa Bay este Domingo
por Will Strome | 12-07-2018 18:00
The Saints don't think there is a chance it might rain on game day, they all but guarantee it will.
To get ready for the damp divisional matchup, New Orleans head coach Sean Peyton is preaching to his players that preparing for unfavorable playing conditions is just as important as prepping for the next opponent.
So important, that Thursday the Saints are stepping outside and practicing in less than ideal conditions in preparation for the division rival Buccaneers and a December rain storm down in < ahref="http://www.nflweather.com/en/team/Buccaneers">Tampa Bay on Sunday.
According to NFLWeather.com, thunderstorms are in the early Sunday forecast with rain likely to linger all afternoon. As of Thursday, there was well over a 90% chance of precipitation and a 12-14 mph breeze is expected. Temperatures will hover in the mid-to-low 70's which seems pleasant for early winter, but a swirling wind and endless downpour will get real old real fast for players and fans gutting it out in the rain.
Coach Peyton is having his players focus on wet ball drills for ball security and testing out a couple different lengths of cleats to handle the slippery grass surface inside Raymond James Stadium He's so focused on the elements and even knows which way the wind will be blowing come kickoff.
"The wind will be blowing from the Tampa Bay ocker room towards the pirate ship," Peyton said during a press conference this week. Sounds like he's plenty ready for Mother Nature, but will he have his defense ready to square up against the league's best passing attack?
The New Orleans (10-2) passing game has been consistently one of the league's most dangerous for years but who would have thought the Saints don't even have the best passing attack in their own division this season? Quarterback Drew Brees has been his exceptional self for most of the season but did put up a dud last week in a surprising loss to Dallas. Brees has racked up 340 yards or more five times this season and if the rain subsides a bit, against the NFL's fifth-worst defense against the pass (average over 274 yards per game), the future Hall of Famer will give fantasy owners something to smile about.
Unless the wind and heavy rain slow Brees down, the veteran should have no trouble picking apart the Tampa secondary. Aside from the last two weeks, Michael Thomas has stolen the show as Brees' top target and been virtually unstoppable. But once Ted Ginn Jr. went down for the season, nobody really stepped up as the number two and teams have wisely began doubling Thomas. Two weeks ago Tre'Quan Smith had a field day against Philadelphia then was only targeted once against Dallas Even tight end Ben Watson hasn't been able to become a consistent presence in the offense, having only hauled in two catches over the last four games. Aside from Thomas, fantasy-wise, nobody should be trusted in the passing game.
The ground game for the Saints though is a completely different story. It doesn't matter if it's Alvin Kamara or Mark Ingram, both have had tremendous success when healthy or dealing with a suspension. Kamara will be a force in both the passing and rushing attack, but Ingram's carries could be dictated by the weather. The worse the conditions, the more carries Ingram will see, and with terrible weather extremely likely then the Saints' road to the playoffs will have to include a week 14 grinder in the rain.
Somehow, someway, Tampa Bay (5-7) is still in the NFC playoff hunt. There's no question they are a long shot, but there's still hope. If the Bucs can win out, 9-7 might be enough to sneak in but they'll need help in the form of losses by similar fringe teams like the Vikings, Redskins, Eagles and Panthers.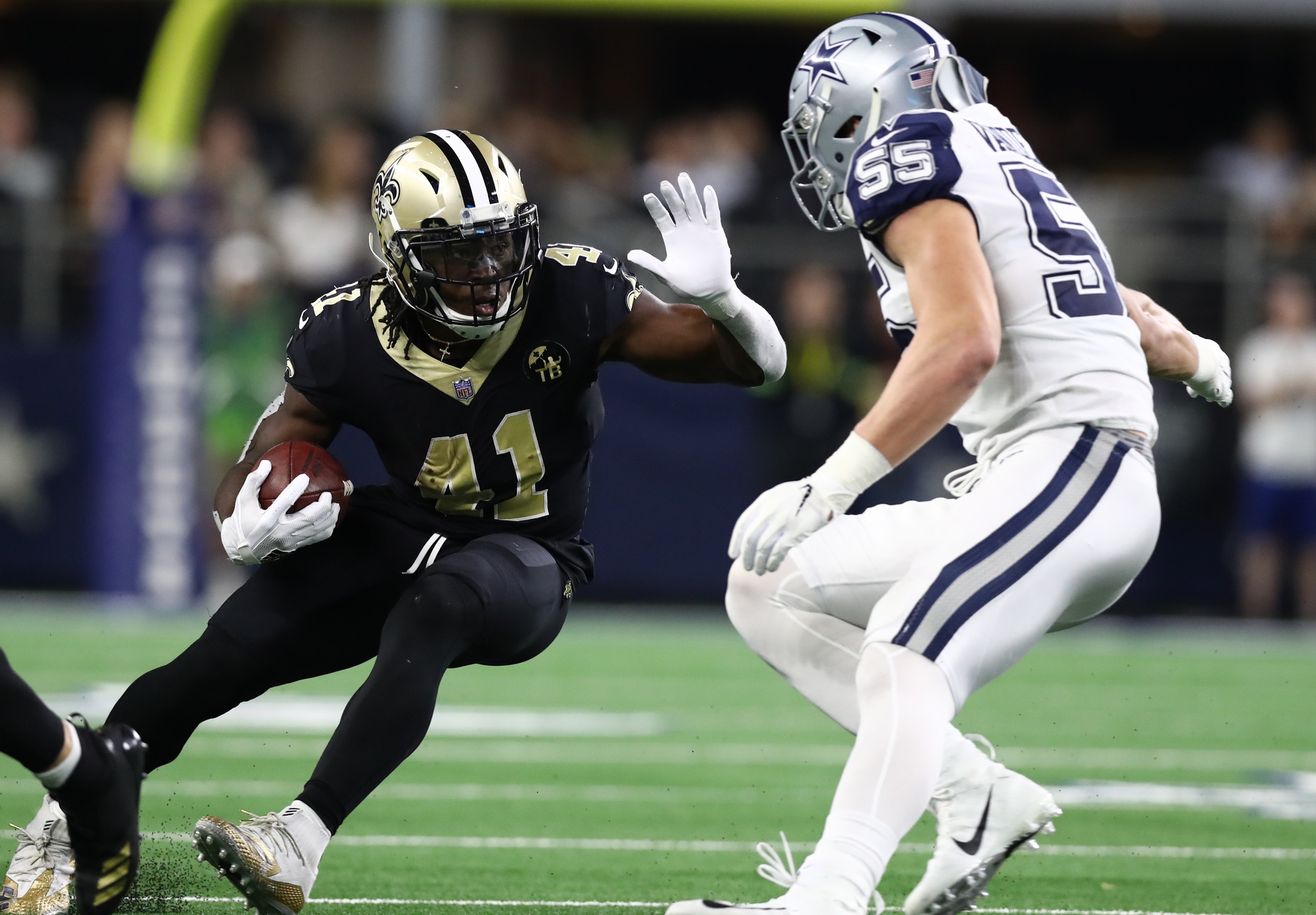 Alvin Kamara. Photo courtesy of USA Today.
If the Buccaneers hope to pull off the great escape and sneak into the NFC playoffs, the fate of the entire team lies in the hands of Jamies Winston. Winston might not be the most reliable QB to show quality leadership when it matters most, but now is his chance to put the past behind him, show critics his maturity and prove to his doubters he is indeed the franchise QB in TB. He does has a 6:1 touchdown-to-interception ratio over the last three weeks and finally might be returning to the phenom he was at Florida State.
But he'll need help.
Like Thomas in New Orleans there's no question Mike Evans is the star wideout in South Florida and the QB's go-to guy. Now that DeSean Jackson is down thought, it's Adam Humphries and Chris Godwin next up and both have already proven themselves as thirsty targets for Winston. Tight end Cameron Brate on the other hand has been a hit-or-miss guy in fantasy and doesn't see enough targets to be worth starting in fantasy.
The sneaky fantasy play in the Tampa offense this week is starting running back Peyton Barber. Let's face it, Winston has a history of turnovers and with rain in the forecast, the Bucs will force-feed the ball to establish the ground game. Barber is the proven lead dog and has seen double digit carries every game since week six. Listed at only $3,600 in daily fantasy, if Barber just falls into the end zone he's a worthy play and allows owners to spend big elsewhere. The heavier the downpour, the more likely a chance Barber will see his first career 20+ carry game.
To many fans' surprise, this game is a kind of a toss-up. According to the NFLWeather.com Historical Analytics, neither team has had tremendous recent rain game success with the Saints posting a 1-2 soggy record since 2013 while the Bucs are 2-4. At home though, Tampa Bay is 2-2 over that span with the last game being a 25-23 win over the New York Giants last year. This game is no gimme for New Orleans.
If you think Tampa Bay doesn't have a chance, maybe you forgot week one when the Bucs stormed into NO and hung 44 points on one of this season's best defenses and pulled out a win with Ryan Fitzpatrick under center. Nobody thought New Orleans would lose last week to a dismal Dallas side, but it happened.
The Bucs have everything to play for this week because a loss basically all but pulls the plug on a topsy-turvy 2018 season. But a win over New Orleans, a massive upset win over the hated rivals, and they're still alive.
In all honesty though, it's much more likely the Saints play the role of Grinch and steal whatever hopes and dreams TB still has of postseason glory. Man oh man, the holidays can be so cruel.