01-12-2019 10:00
Colts Need Lots Of Luck To Upset Chiefs In Snowy Kansas City
by Will Strome | 01-12-2019 10:00
Whether it's rain or snow, the midwest is destined to be a winter wonderland this weekend. With a heavy wintery mix headed straight for < ahref="http://www.nflweather.com/en/game/2018/divisional-playoffs/colts-at-chiefs">Kansas City it will take much more than Luck for either the Colts or Chiefs to advance to next weekend's AFC Champion game.
Wildcard weekend featured mild weather in Baltimore and Chicago but this weekend's Divisional round in Kansas City will more closely resemble a blizzard. A winter weather advisory has been issued in the greater KC area leaving playing conditions for this massive playoff matchup far from favorable.
According to NFLWeather.com, flurries are in the Sunday forecast featuring between 2-5 inches of snow expected Saturday before the 4:35pm EST kickoff. Snow will start early and continue on through the day, however, if temperatures rise as anticipated, the snow will turn to freezing rain meaning playing conditions only go from bad to worse. Temperatures come kickoff will be in the mid-30's but feel much more like the high-20's given the piercing wind chill. Even though temperatures may increase as Saturday rolls on, the wind will still be a factor around 10mph leaving players and fans alike feeling much more frigid than the thermometer may show.
But the Kansas City Chiefs (12-4) now cold. Since 2012, the Chiefs have played in 15 outdoor games when the temp dipped below freezing and won eight of them. The rain is no different and doesn't seem to impact this franchise, given KC is 10-4 in rain games since 2010 and 5-0 at home. As the top-seeded team in the AFC, all the pressure is on the Chiefs to continue this trend in crummy conditions and beat a team that can't handle the elements. At least in terms of history.
According to the NFLWeather.com Historical Analytics, the Colts are 0-2 in the snow since 2010, 0-4 in the rain since 2014 and 1-3 in outdoor freezing conditions since 2010. However, that one lone win, was in Kansas City back in 2013. It's been done before and it could happen again.
While the Indianapolis Colts (10-6) are riding a high of winning 10 of their last 11 games, the team with a .500 road regular season record this year travels to the league's top offense. However, while KC is home to the league's top touchdown throwing quarterback, Indy's is in second. Both teams boast a high octane offense, but with atrocious winter weather lingering, it's all about which team can limit the turnovers and allow their suspect defense to take command.
It's no secret that the Chiefs have the league's second-worse defense in the league. It also doesn't help that KC has lost two of it's last three and surrenders the most yards to game to any team in the NFL. If the Chiefs can't clamp down on a sturdy Indy offense, they'll need their offense to take over. Something that's been the common theme all season.
Quarterback Patrick Mahomes has far exceeded his expectations for 2018 and produced as 5,000 yard and 50 touchdown campaign. But with terrible weather on the horizon, it might take his legs over his sensational arm to beat the Colts this weekend. Mahomes is a scrambler, but also a turnover machine in big games. Against the Rams in a massive Monday night outing, Mahomes threw three interceptions and fumbled twice. That won't fly against a sneaky stout Indy D.
Luckily, Mahomes has no shortage of help in the passing game. Wideout Tyreek Hill broke a KC record for receiving yards in a single season with 1,479 and eight times this season he's seen eight targets or more. Weather will have no impact on Hill's involvement in the game. Same goes for tight end Travis Kelce who was second in receptions for TE's this year and over the last six games was targeted a total of 64 times. While all eyes will be on Hill and Kelce, Sammy Watkins ($4,500) and Demarcus Robinson ($4,100) could be the sneaky daily fantasy plays given both seen a decent number of targets when healthy.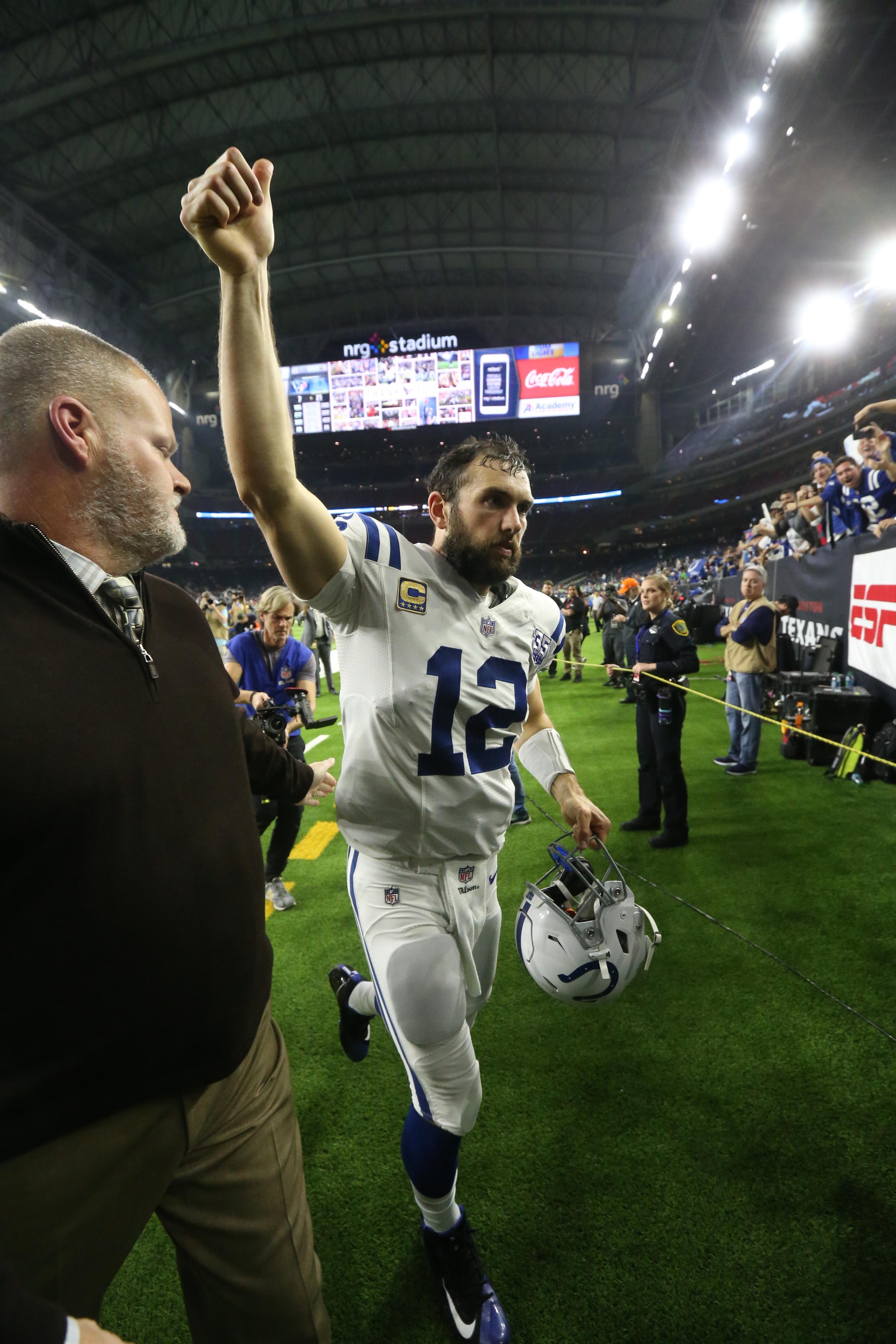 Andrew Luck. Photo courtesy of USA Today.
But with weather a factor the real daily fantasy play should be running back Damien Williams. Priced at only $5,100 for a starting running back and with rain/snow in the forecast, Williams will be relied upon heavily and has seen double digit carries each of the last three weeks. Not to mention, Williams averages over a touchdown a game and with Spencer Ware listed as questionable heading into the playoff round, the workload falls on Williams. The team also has another Williams, Darrel, ready to roll on Saturday and will see plenty of touches is Ware can't suit up.
While KC debates which Williams to roll with, Indianapolis found it's lonesome stud in the backfield. Marlon Mack has become the perfect complement to the Colts passing game and with bad weather on the horizon, Mack will be the go-to guy. Over his last five games, Mack has three 100+ yard rushing performances and six total touchdowns. However, he's also fumbled twice over that span and can't afford a single turnover against the NFL's most dynamic offense.
Behind KC's top tier offensive attack is the Colts passing game. Stanford's Andrew Luck had the second-most passing TD's in the NFL this season but it'll be his legs in this wintery mix that lead the Colts to a shock upset. In his last five games he's accumulated almost 30 carries.
While the passing game has been subdued by the lack of offense, one stud emerged during the passing process. Wideout T.Y. Hilton has routinely shined but the rest of the bunch crumbled. However, it doesn't matter if it's Chester Rogers or Dontrelle Inman, both are dirt-cheap in DK and see plenty of targets when healthy, are worth a cheap flyer.
Despite beating Houston 21-7 and winning 10 of their last 11, the Colts aren't being taken seriously. The Chiefs have lost two of their last three, proving their beatable.
If it comes down to a 'double-doink', I'll take Indy's Vinatieri over Harrison Butker all day. Let it snow! Vinatieri's great uncle led General Custer's band. Could an AFC Championship game in Foxboro against his former club, New England Patriots, be Vinatieri's last stand?