09-29-2017 17:00
NY Giants & Bucs Brace for Rain in Tampa and across Florida
by Will Strome, NFLWeather.com | 09-29-2017 17:00
The Sunshine State really hasn't been living up to its name lately….For the second time in four weeks, torrential rain is about to impact a Tampa Bay Buccaneers regular season game but at least this time around the Bucs will actually get to play!
In the days leading up to the first NFL Sunday of the season with Hurricane Irma bound for the Florida coast, the league forced the Bucs and Dolphins to reschedule the opener for later in the season. Thankfully, Florida isn't bracing for another devastating Hurricane, but plenty of precipitation is forecasted for the weekend ahead.
According to NFLWeather.com, heavy rain is expected throughout the day with winds picking up as the day goes on, maxing out at 16-18 mph. Temperatures should stick in the low-80s and feel that way for most of the game with humidity not likely an issue. But the real issue will be muddy field conditions with storms arriving in Tampa Friday and Saturday. It looks like a notoriously awful field is about to get that much worse.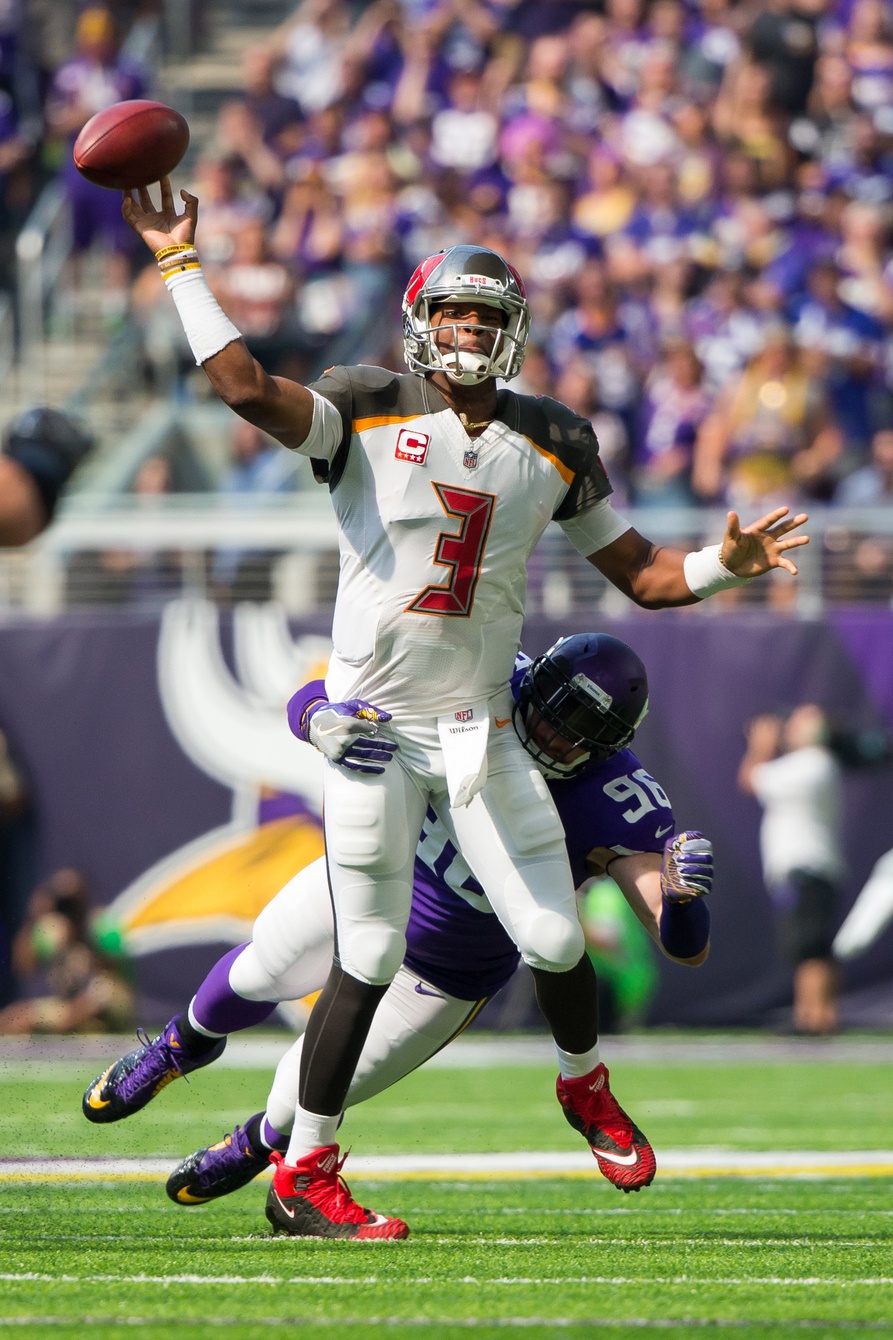 Jameis Winston. Photo courtesy of USA Today.
Green Bay quarterback Aaron Rodgers has been vocal about his disdain for the grass inside Raymond James Stadium after he obtained a calf injury back in 2015. He even went as far as to say some surfaces in the league are more likely to create injury than prevent one. Crummy playing conditions aside, whether Rodgers likes it or not, the game in Tampa will go on!
The Buccaneers (1-1) don't exactly have promising statistics in rain games over recent seasons but at least the team is plenty familiar with having to battle the damp elements at home. According to NFLWeather.com Historical Analytics, Tampa is 1-4 in the rain since 2011 including back-to-back losses at home a year ago to the Rams and Broncos.
In both rain game losses last season, neither the offense nor defense could find any sort of consistency but the Bucs did see random spurts of sunshine in the form of Jameis Winston. The former Heisman winner did have his problems battling the weather, tossing three picks and coughing up a pair of fumbles, but the turnovers shouldn't discourage fantasy owners from playing the young gunslinger who also averaged two touchdowns, over 290 passing yards and over 46 passing attempts per game.
Winston will be the star of the show Sunday but he'll need support from his cast. Wide-outs Mike Evans and DeSean Jackson will see their fair share of targets and should spread the field nicely to leave some open space between the hashes for tight end Cameron Brate, who USA Today's Steve Gardner likes as one of his "trove of TE's" following his performance week three and his increasing involvement in the passing game. The backfield duties will likely be split by Jacquizz Rodgers and Chris Sims who need to establish some sort of a rushing attack for an offense that's had a less than stagnant ground game thus far.
The New York Football Giants (0-3) can sympathize, being another team that's genuinely struggled to move the ball on the ground. Paul Perkins has been and will continue to be the starter but being the top dog in a backfield that's stuck in the mud, certainly isn't worth starting fantasy-wise.
One of the few Giants actually worth starting is stud wide receiver Odell Beckham Jr., and perhaps a few of the counterparts around him. USA Today's Gardner also wrote this week that he's a big fan of fellow WR Sterling Shepard who will "get plenty of targets this week against Tampa," Gardner wrote.
Despite the incoming storms, both Beckham and Shepard will see plenty of looks from veteran QB Eli Manning who historically averages 43 passing attempts per rainy road game. If the rain gets too heavy, the game plan will likely shift to pounding the ball between the tackles but until that's the case, the weather won't dictate how often Manning drops back. That being said, veteran Brandon Marshall and rookie tight end Eric Engram could be sneaky fantasy plays.
Lightning and a downpour featured in Thursday night's Bears-Packers game, marking the first of what could be a handful of NFL games affected by nasty weather this weekend. It begins again early Sunday across the pond when rain is expected in the London forecast for the Saints-Dolphins game. Check back to NFLWeather.com early Sunday for weather updates on all NFL matchups this weekend!