12-14-2017 10:00
AFC Championship Preview?: Freezing Cold Stands in Steelers-Pats Way of AFC Summit on Sunday
by Will Strome, NFLWeather.com | 12-14-2017 10:00
The Pittsburgh forecast over the next few days is a wild one, featuring snow, rain and below freezing temperatures. With horrendous winter conditions expected on Sunday when the Pittsburgh Steelers host the New England Patriots for [practically] home field in the AFC, for die-hard and neutral football fans alike, it truly doesn't get any better than this.
According to NFLWeather.com, Sunday temperatures are likely to be in the high-30s but will feel much closer to sub-freezing with the 5-6mph winds likely to pick up as the afternoon rolls on. Given the game is a 4:25pm EST kickoff inside Heinz Field, once the sun goes down conditions will only get colder. The Burgh is anticipating the cold front featuring snow to arrive Wednesday or Thursday (3-5 inches) with only a 20% of snow heading into the weekend as temps slowly pick back up. However, precipitation is expected on Sunday, and whatever the temperature is will dictate whether it's freezing rain or snow flurries.
A win for Pittsburgh (11-2) will clinch a first-round bye but a win and a Jacksonville loss or tie solidifies the AFC top seed and home field advantage. Technically, all New England (10-3) needs this week to guarantee a playoff spot is a Baltimore loss or tie but if the Patriots win or tie against the Steelers then NE will be locked in for the AFC East crown. With so much on the line, neither side can afford to let Mother Nature be a negative intangible factor this weekend.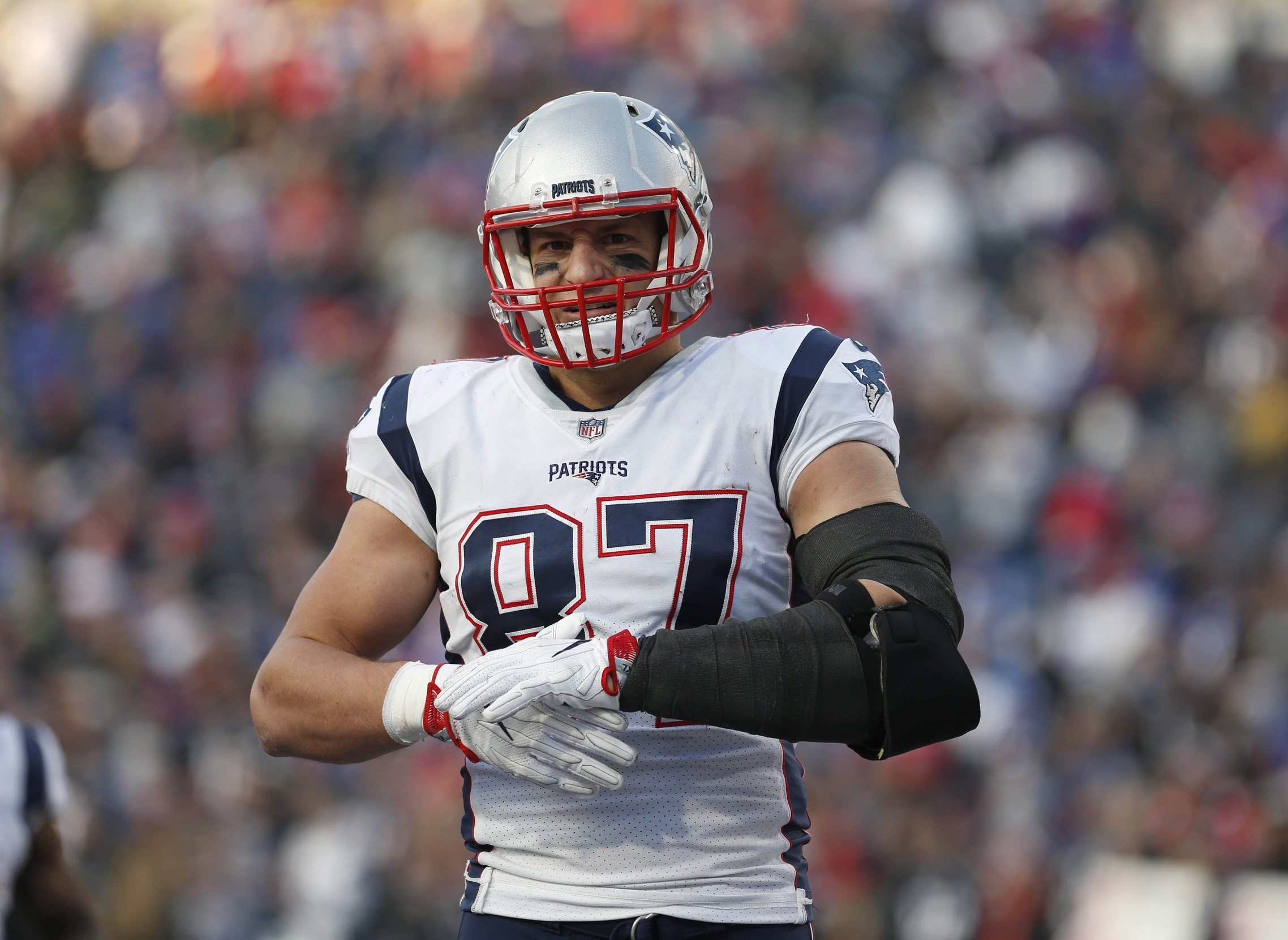 Rob Gronkowsky. Photo courtesy of USA Today.
The Steelers rarely get flustered by the rain, snow or even frigid temperatures. According to the NFLWeather.com Historical Analytics, since 2010 the
Much of that success can be credited to quarterback Ben Roethlisberger who is the ideal QB to have under center when weather is a factor. Since 2012, Big Ben has only turned the ball over six times in weather impacted matchups while posting an incredible 13-2 record over that span. It's definitely helped to have playmakers like Antonio Brown as an outlet, but JuJu Smith-Schuster and Martavis Bryant have also been extremely effective in the passing game (when not suspended). Even if Roethlisberger throws half of the passing attempts he did a week ago, that's 33 drop backs against a NE secondary that allows the fourth-most passing yards per game in the league.
But with weather a massive factor, Pittsburgh will likely lean on the best back in the league, Le'Veon Bell. USA Today's Steve Gardner even blessed Bell's most recent performance with his 'Even Broader Shoulders Award' in his article this week. "Bell did it all against the Baltimore Ravens, rushing for 48 yards and a pair of touchdowns and catching nine passes for 77 yards and another score" Gardner wrote. "All that effort in a wild conclusion to Sunday's NFL slate resulted in 30.5 standard fantasy points for Bell and 39.5 in PPR formats."
Shutting down Bell is absolutely imperative if New England has any shot of escaping a frozen Heinz Field with a crucial win this Sunday. The Pats' rushing defense surrendered over 300 yards on the ground over the last two weeks but has stymied solid rushing attacks previously this season, like a New Orleans group that was held to only 81 yards on the ground. The NE defense has stepped up before this season and can do it again, and we all know Bill Belicheck and Tom Brady have Pittsburgh's number, having won the last four straight meetings.
Speaking of Brady, Tom Terrific has truly lived up to his name even more so as the weather worsens. In his last dozen games impacted by the elements, Brady is 11-1 and averages over 35 passing attempts an outing. That being said, a light snow or scattered shower won't deter TB12 from unleashing against the Steelers' secondary that was absolutely torched by Joe Flacco a week ago.
With Rob Gronkowski returning from suspension, expect the massive to tight end to get a massive number of targets against that weakened Ryan Shazier-less D. Wideouts Brandin Cooks and Chris Hogan had abysmal performances against the Miami Dolphins on Monday but the speedsters should have no issues torching that defense, even in the snow.
With all the makings of a high scoring shootout, it's absolutely awesome that home field advantage in the AFC can potentially all come down to who has the ball last. Both teams have the most clutch quarterbacks and kickers in the league so let's hope this is just another intense chapter in this incredible rivalry.